Customer's comment
General Manager Zhou of Hongxin Smart City Business Division:
The AI video analysis system of vClusters is used for the access control of Hongxin Building, which is mainly realized through face recognition. The system has been running stably since its application and is featured by high recognition rate and stable operation of equipment, providing convenience for all staff in our unit. This system is easy to deploy and manage; in particular, the system equipment makes use of old cameras in our building, which not only has met our demands for new functions, but also greatly saved the use cost. It is really an efficient, flexible and intelligent high-tech product.
Customer demand
The building has 14 floors with 2 access controls on each floor. The existing access control system adopts the traditional mode of swiping card to open. To provide a more convenient way to open the door, the company has planned to add a face recognition access control system based on its existing access control system, so as to manage the access of building staff, visitors and external personnel conveniently and efficiently, improve the level of security monitoring effectively and build a more high-end, intelligent, convenient and efficient face recognition system.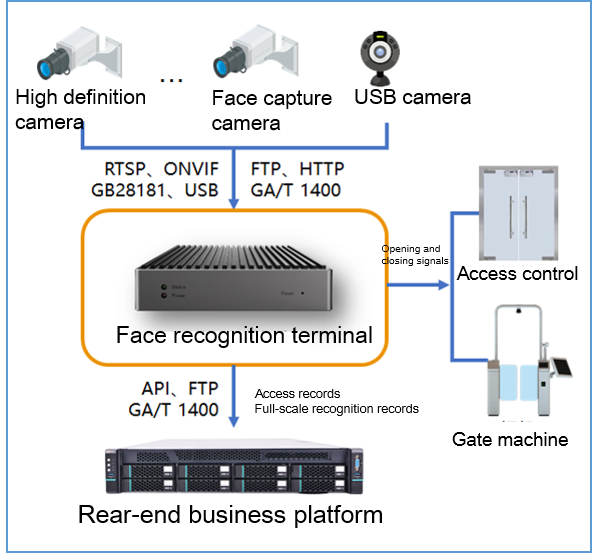 Core value
It not only enhances the efficiency and convenience of personnel passage, but also improves the user's interactive experience with the product: the face recognition access control system judges whether a visitor has the access authority or not by collecting his/her face information through door cameras and comparing it with the face database in the system and controls the door lock opening by making use of the traditional access control identification method, thus facilitating the passage of personnel and improving the service quality. Where the business requires, it can record attendance information and generate attendance reports while making the face recognition.
Advantages of the solution
High accuracy of the algorithm;
Easy deployment;
Plug and play;
High cost performance;
Directly upgrade the existing ordinary cameras to make use of the investment of existing monitoring equipment;